VA refers to Military Sexual Trauma (MST) as the experiences of sexual harassment and/or sexual assault that occurred while one was in the military. Males and females alike can experience MST. The perpetrator can be of the same or of the opposite gender. Like other types of trauma, MST can negatively impact a person's mental and physical health, even many years later.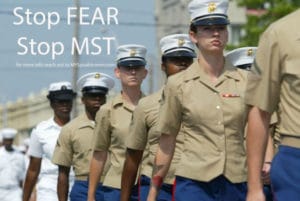 This issue has gone un reported more than 90% of the time. Why? FEAR. Military's legal system doesn't properly allow for justice to be served. There are many reasons why and both sides can argue what is best. We are here as part of #MasterYourStory to provide a space for those who have experienced #MST to share their stories. To shed light on the dark fear and shame they have been carrying for years. Over the next few months we will be launching a book, a screenplay and approaching elected officials, such as Senator Gillibrand (D-NY) to lend support and to get connected into a network of people we can help and who can help us. Rising this up together won't necessarily be easy, but it must be done.
More information and assistance:
For more information regarding military sexual trauma, please visit the U.S. Department of Veterans Affairs
For help with treatment and health care related to experiences of MST, please contact your local VA Medical Center and ask to speak to the MST Coordinator.
For help with disability compensation related to MST, please contact the MST Coordinator at your local Veterans Benefits Administration Regional Office.
For telling your story and shedding light to clear out FEAR, contact MYS@sahlcomm.com.