It was a great honor to be asked to meet with Senator Kristen Gillibrand (D-NY). We had a wonderful meeting in the Senate Dining Hall in the Capitol Building. We discussed the challenges she faces when trying to gain support for proper legal representation for #MST and what we can do to help. This meeting was an eye opener for me. I had no idea just how many people experienced #MST and the different degrees of the problem.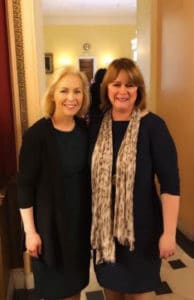 She also connected us with the nonprofit group, Protect Our Defenders, and their CEO Don. The current state of Military Legal System continues to put the Commanding Officer and legal justice for MST in direct conflict. The rules need to change. https://www.youtube.com/watch?v=gp9oJaheJGY&feature=youtu.be
Over the next few months you will begin to hear from people all over the US and overseas who need to shed light on their story. If you know someone who has experienced #MST and is living in fear or shame, please direct them to MYS@SahlComm.com so we can help them.
I would like to take this opportunity to thank Senator Gillibrand (D-NY) and her team for their continued strong support and tireless efforts to help those who defend this country. Thank You it was an honor to meet you, Senator. I look forward to a long supportive partnership to shed light on #MST.
Next month we reach out to HBO's VICE team. Stop the FEAR stop #MST.