Christian Frederick Martin IV was born on July 8, 1955. He then attended UCLA, majoring in Economics. In his free time, he helped in the guitar repair shop of Westwood Music in West Los Angeles, and this also gave him a valuable insight into the retail end of the music business.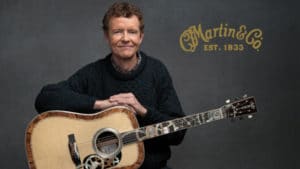 When Chris was small, he helped box strings, 6 to a box. In 1972 and 1973 he became more active in the business, helping in the office and attending the NAMM Trade Show in Chicago. He also worked in the machine room cutting out guitar neck blanks on the bandsaw.
During the summer of 1973, Chris spent his time learning every operation and assisting with the construction of a D-28S guitar. This and his apprenticeship in the shop was an invaluable experience when he took his place in the family business.
Chris joined the Martin Guitar Company full time after his graduation from Boston University in 1978 with a Bachelor of Science degree in Business Administration from the School of Management. Chris worked in many departments, learning how the business functioned from the bottom up. In 1985 he was appointed Vice President of Marketing, and he took an active roll in the day-to-day challenge of running a traditional business in a modern world. After the death of his grandfather, C. F. Martin III, on June 15, 1986, C. F. Martin IV was appointed Chairman of the Board and Chief Executive Officer, indicating his responsibility for leading Martin into the next century.
"Since 1833 musicians have connected with audiences everywhere the world over, showcasing their talent and virtuosity over all genres. Martin's significance and cultural impact over 186 years is simply immeasurable." – Chris Martin
Martin guitars and Martin strings are the instruments and strings of choice for musicians around the world, from the icons of rock, pop, country, folk and bluegrass to those just beginning their careers. They can be seen across all segments of pop culture, from television to movies, Broadway, books, online, and gracing the covers of popular magazines on newsstands everywhere. One of the world's leading acoustic instrument makers for nearly two centuries, Martin guitars are hand-made by skilled craftsmen and women, who use a combination of new design and techniques, along with those introduced by the company founder.