I have the distinct privilege to work with this week's "Master Your Story and Learn How to Tell It" podcast guest, Karen Buck. Karen works with the Manufacturing Resource Center (MRC) in Lehigh Valley, PA. Five years ago MRC met up with PBS 39 and an amazing idea was born. A COOL way to look at careers in manufacturing. They reached out to Sahl Communications, Inc (SahlComm) and the What's So Cool About Manufacturing?" program story began.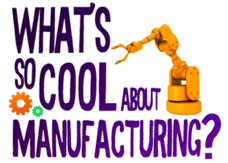 The "What's So Cool About Manufacturing?" Student Video Contest gives 8th graders from school districts around the Commonwealth of PA, the opportunity to connect directly with local manufacturers, document their experiences and present them in an educational and "cool" way through film media. The contest was created to generate excitement that draws students to consider manufacturing career paths. It started out five years ago with a handful of schools in Lehigh Valley, PA, today it covers 12 regions in PA and is reaching more than 200 manufactures and schools.
As Karen mentions in the podcast, mastering the story is critical to awareness, education and growth of the program. Having the opportunity to inform students of new opportunities and open their eyes to new and exciting career paths is what this cool program is designed to do. Having the students learn how to master their story on "What's So Cool About Manufacturing" is an exciting process that ends with online voting at www.WhatsSoCool.org and regional red carpet awards ceremonies.
Please take a listen to the podcast below and learn more about how this team "Mastered Their Story" and are improving lives and communities.