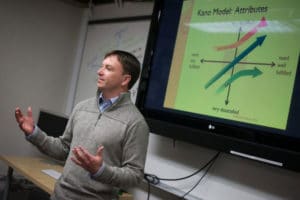 Dr. Michael S. Lehman is a Professor of Practice at Lehigh University, where he co-developed and teaches in the Master's of Engineering in Technical Entrepreneurship. His students are on the cutting edge of new technology developments. We've had the pleasure of speaking in his class and expressing the importance of communication around their developments.
The M.Eng. in Technical Entrepreneurship at Lehigh University educates students to launch their own companies, join startups, and innovate at corporations. The TE degree offers a dedicated curriculum (including courses in intellectual property, creativity and innovation methods, prototyping, entrepreneurship and integrated product development), a dedicated classroom/studio space, creativity lab and additive manufacturing lab, and a full-time faculty. The program received national recognition for its role in talent development by the University Economic Development Association. More details are available at: https://te.lehigh.edu/temasters/aboutfulltimemastersprogram.
Please listen in to our discussion with Dr. Lehman.