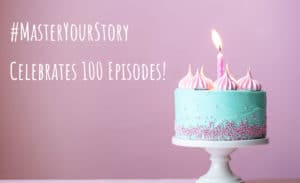 We are thrilled to be sharing our 100th episode! Thank you all for being part of our audience. In today's episode we discuss connectivity. We connect through our stories. In honor of our 100th episode we want to share some insight into the Master Your Story process.
You spend your life focusing on what really matters… in your life, in your business, in your community and even the world at large. If you thought you could tell the world what you believe matters, and by so doing change the world, would you do it?
What if it was as simple as telling a story? Not just any story mind you, but your story.
Your story is truly unique, even if it shares chapters with others, and your unique self-story can speak to others, guide them in their thinking, their interactions with the world… their lives.
We are not all born story-tellers, and even published authors can have trouble identifying who they are and the role their true self has had on the trajectory of their own story.
Master Your Story is a program that helps guide your self-awareness to get to the heart of your story and to help you share your story with those who need to hear it. Our process is easy, effective and fulfilling.
Join Master Your Story and let us help you improve humanity… one story at a time. Master Your Story… it matters. Check out MasterYourStory.