Dear Readers,
We launched the book!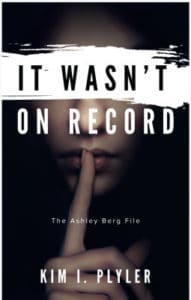 "It Wasn't On Record: The Ashley Berg File" In 1987, female recruits in the military would endure the same rigorous training as men while surviving an entirely different state of abuse. Their stories were often ignored or diminished, rarely recorded in any official record, to protect the male-dominated culture and hierarchy of all branches of service. Despite their inclusion and integration of women, in far greater numbers than the other branches, and providing opportunities for command advancement to women, for the Navy to honor its long and storied history in service to the country, it must honor the true sacrifices and stories of all who serve.
The Ashley Berg File tells the story of four young women, having joined the Navy for reasons as disparate as their backgrounds, who forge a life-long camaraderie to endure and overcome the seemingly insurmountable obstacles encountered as recruits in U.S. Navy Boot Camp and A-School in 1987.To stand any chance of graduating, let alone achieving their hopes and dreams, the four must find the strength in each-other, while forging it in themselves, as they come face to face with the realities of being a female in the U.S. Military… knowing their stories will never be "on record."
It's up on Amazon and Kindle. Click here to get your copy and help support Stop the FEAR. Stop #MST.