There is always a way. It may not be the most direct route, or the most obvious, or the most orthodox, but as Robert Frost put it, 'I took the one less traveled by, and that has made all the difference'. And it has. I retired from flying assault helicopters over a twenty year career, going after the bad guys and rescuing the good guys, in some of the most austere locations in the world: Iraq, Kosovo, Northern Ireland, Macedonia, the Arctic Circle, and they were just the flying operations. Add to that war-fighting planning in Afghanistan, evacuation operations out of West Africa, disaster relief and humanitarian assistance in Sumatra, Indonesia, after the 2004 Indian Ocean Tsunami, Military Observer training in India, it was a privileged and rewarding career. How do you even begin beat that?
Moving to New York straight after leaving the British military in 2013, I quickly realized that a career in finance wasn't what I wanted to do. So I used some of my retirement bonus to invest ten thousand dollars in a Canon EOS1D Mk4 DSLR camera, and three lenses. At this point, I didn't know how to turn a camera on. The internet is a wonderful beast when it comes to filling a vacuum of knowledge. And slowly but surely after watching many tutorials online, heading out to shoot street style at New York's fashion week, and figuring out how to edit the photographs in Lightroom, I started to up my game. When I look back, snapping a pic of Vogue Fashion Director Sarah Gore Reeves as she legged it out of Milk Studios to her next catwalk, was a notable turning point. I tweeted that picture at Sarah, and she said back in a tweet that she wished I could follow her around every fashion week, so I replied, 'be careful what you wish for'. We met for coffee and what Sarah needed was a Behind the Scenes (BTS) videographer. 'You can do that right?'
'Of course' I replied. I had no idea where to even find the video function on the camera! Given that it was a Tuesday, I had til the weekend to figure it out, as Sarah had invited me to video a supermodel she was shooting for a cover that weekend. And as it happened, that weekend turned out to be the very start of my filming, producing, and editing career.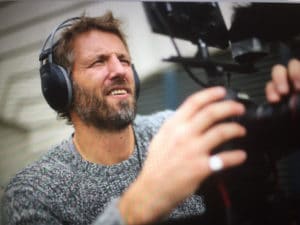 When not making video content for Sarah, I was appearing regularly on CNN, NBC, Al Jazeera, Fox News and Huffington Post Live, offering analysis on the latest terrorism and foreign policy events that seemed to be unfolding rapidly around the world, most notably the emergence of the Islamic State. I had ten tours of duty under my belt, mostly in counter terrorism, as well as a Masters from Kings College London in War Studies and Foreign Policy. The key here was getting and introduction to one of the bookers – I had all this knowledge and experience but no-one knew who I was. All the newsrooms monitor each other around the clock. So if you have something interesting to say, there is a good chance a producer from another network will hear what you have to say. Concurrently, through a friend, I was also introduced to a 'talent' agency in New York who agreed to represent me. That meeting took around four months to secure, but it gave me another line of development to pursue, mostly in the realm of hosting jobs. In the broadcast media business, whether you are in front of the camera or behind the camera, or both, you can never have enough development strands occurring. And that is why from the outset, I made it my business to work hard at all functions of production: filming, writing, producing, sound mixing, editing and presenting.
In reality, the hard skill sets: the technical ability to create sharp and beautiful film content was only the tip of the iceberg. On leaving the military, I was a known entity, I had commanded men and women in combat, I could strap a helicopter to my arse and fly in the most extremes of conditions without blinking an eye. I had a reputation, was a trusted senior operator in combat. Now I was nobody. I could have been knocked over by a truck in New York and nobody would have really given a shit apart from my wife. I had flown the safety net of the esprit de corps that the military gave you. That was hard to deal with, I was literally starting again, and that meant I was at the bottom of the pile.
So get your head around it, and work out how you rise rapidly. It was as simple as that. One of the major considerations of big career changes that no-one really talks about, is cashflow. If you can figure out a way to live frugally, knowing exactly how much you need per month to survive, and find a way cover those costs, your ability to commit to the pursuit of dreams will be elongated. My wife, Meghan, was my mainstay and my belief system, and the small pension helped a little too.
I must have pursued thousands of coffee meetings, lunches, drinks, and swung by events, all in the hope of a senior person within the industry taking an interest. I had to get used to people appearing interested in meetings, and then never calling back, it was the silence and rejection that was frustrating. In the military we were straight shooters, you didn't like an idea or a proposal, you said no thanks. Not in the broadcast media world.
Finally, do not feel like you are alone in transcending your comfort zone, your normal boundaries. The rejection, the silence, the dead ends. None of this is personal, know that. As when you get the gig hosting a new documentary, or filming in Western Mosul, there is no feeling like it. Three years ago I decided to make a film on the life of my severely autistic brother, Spencer, and the relentless love and tenacity my mum showed in protecting him her entire life, until she passed in 2009. I am currently talking to a big network in the United Kingdom about an acquisition. The film is called 'The Walk", is a legacy to my late mum, and will be the most important piece of work I embark on in my lifetime. And that alone, has made all the difference in taking the road less travelled.
Please listen in to our interview with Mikey Kay, Correspondent, Filmmaker, Host, Producer, Writer, and Editor