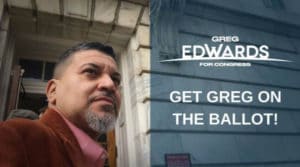 Greg is a devoted husband, father, and son who has lived in the Lehigh Valley for more than 25 years. He is running because he sees the need for a bold new vision of a prosperous 15th District where everyone's full potential as human beings is given the opportunity to learn, live, and thrive.
Greg is the Founder and Senior Pastor of Resurrected Life Community Church and the President and CEO of Resurrected Community Development Corporation, which led to the creation of the Resurrected Life Children's Academy, the James Lawson Freedom School, and the Campaign for Change organizing initiative. He has spent the last 20 years building a racially diverse, culturally rich, economically self-sufficient, and politically aware community that has addressed racial, economic, and educational disparities within Allentown and throughout the greater Lehigh Valley.
Greg believes the 15th Congressional District needs a legislative agenda that shifts the existing political paradigm by making every American visible, and no one disposable. He'll achieve this by championing an aggressive progressive program that includes equitable health care, free higher-education, economic dignity and civic engagement that puts people before big corporations and big donors.
Greg was inducted into the 2016 inaugural class of the Martin Luther King, Jr. College of Pastoral Leadership at Morehouse College, for his exemplary leadership in advancing Martin Luther King's Beloved Community through peace, truth, justice and nonviolent direct action. In 2017, during their Sesquicentennial celebration, Morehouse further honored Greg, inducting him into the college's prestigious Martin Luther King Jr. Board of Preachers with Rev. Dr. William Barber.
A graduate of Geneva College (Bachelor of Science in Urban Ministry Leadership), the University of Delaware's Graduate School of Public Policy and Urban Affairs (Certification in Community Economic Development), Drew University (Master of Divinity), and the New Brunswick Theological Seminary (Doctor of Ministry in Prisons, Transformative Justice and Public Policy), Greg has been awarded the NAACP Man of Vision Award, the Peace Pilgrim of the Year Award, the Community Development Award by the Allentown Human Relations Commission, the William Gray III Leadership Award, and the prize for Multi-Cultural Church Leadership from Drew University, where he simultaneously served as President of the Theological Student Association and the Black Ministerial Caucus.
Greg will be an asset to Congress and brings a deep understanding of the intersectionality between educational parity, unfettered access to health care, and increased economic opportunity.
Please join us as we speak with Greg and learn about his story.