Haley O'Brien is vividly involved in the local culinary scene, working under several chefs in the area. With a strong background in the craft beer industry, she dove into culinary classes at Brightwater and has started her path into the food world. Her roots in the food and beverage industry started while attending the University of Missouri – Kansas City. She discovered her passion for the art of craft beer and dove into the Kansas City craft beer scene attending beer-focused seminars, clubs and classes. She is a Certified Beer Server through the Cicerone Program and believes in practicing high standards for beer service. She has built her experience through work at a homebrew shop, craft beer pubs, Boulevard Brewing Company, Torn Label Brewing Company and Bike Rack Brewing Company. She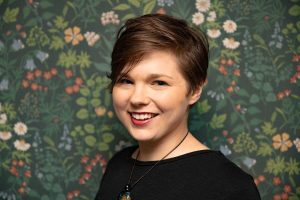 started with Torn Label Brewing Co. prior to them opening, giving her a wide array of experiences and exposure to all the tasks involved in operating a craft brewery. The culinary world had always intrigued her and she finds great joy collaborating with chefs, diving into her palate, as well as, teaching and entertaining people with her passion about food and beverage.
Haley was both a student and full-time employee with Brightwater: A Center for the Study of Food, allowing for exposure to a variety of culinary equipment and skills. When she's not working, she's cooking at home, gardening, doing yoga or spending time with family (including the pets) and friends. Haley is intrigued by flavor profile interactions, eating for health and vitality, human connection and ambiance. She is currently a part of The Local Table Food Tour, as well as, supporting and planning local food events. One of her main goals is to create next-level palate experiences involving food and beverage for northwest Arkansas. She is interested in catering dinner parties, eating for wellness, and teaching people about food, beverage and cooking. She can be contacted at fractalnwa@gmail.com or (479) 200-4748.